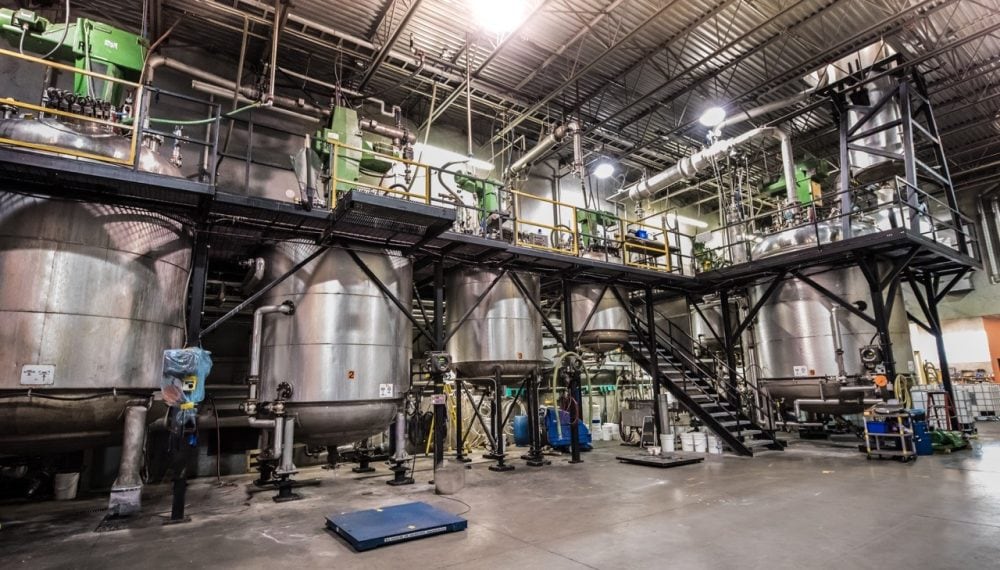 Operations
Reactors
| | | |
| --- | --- | --- |
| Name | M.O.C | Working Volume (L) |
| R1 | 316 SS | 21850 |
| R2 | 316 SS | 17800 |
| R3 | 316 SS | 8520 |
| R4 | 316 SS | 4100 |
| R5 | 316 SS | 3500 |
| R6 | 316 SS | 4700 |
| R7 | 316 SS | 8400 |
| R8 | Glass Lined CS | 8330 |
| R9 | 316L SS | 28225 |
All reactors are jacket heated with oil to temperatures of 350 oC and are equipped with dual agitator assemblies controlled by varidrives.
Equipment
Description

 

 

 

Pumps (mag drive, gear, pulsafeeder, etc.)

 

Votator

 

 

 

Heat exchanger

 

Distillation column

 

 

Condensers

 

Filter presses

 

 

 

Flow meters

 

Swaeco filter

 

 

 
ISO9001
The Chemical Manufacturing facilities in Delta, British Columbia is registered to the ISO 9001:2015 Standard. These quality tools and practices are employed throughout Canadian Energy Services and its divisions. CES adheres to our Quality Policy which states:
We are focused on delivering "best-in-class" service to our customers. This is achieved through documented information that is communicated and understood for all processes. This will allow for a commitment to continually improve our Quality Management System and to provide superior products, accurate quantities and timely deliveries. Maintaining a safe and clean work environment is critical to achieving these goals.
R&D/Lab support
Sialco maintains a synthetic chemistry laboratory and scale up facility that includes 80L, 20L, 10L, 4L, 1L glass systems, 50L SS reactor and a wiped film evaporator. This enables us to effectively scale up reactions from lab scale to commercial size. On occasion, small commercial size batches are also produced for our customer's evaluation processes, procedures and test marketing
The R&D team consists of chemists who are supported by our onsite engineers during scale up. The laboratory has access to analytical capabilities including HPLC, GC, FTIR, UV-Vis, Lovibond Tintometer, Brookfield Viscometer, Karl Fischer Titrator, and Colorimeter that aid in the development process. The plant is also supported on the quality side where production process and finished products are evaluated for quality control.
Custom manufacturing
Sialco custom manufactures and toll manufactures numerous organic chemicals under contract. These materials vary widely in application ranging from synthetic lubricants, sunscreen additives, cosmetic waxes, oilfield, pulp & paper and mining processing aids. Many of these materials are patented and are made exclusively for the patent holder.
Many companies find that shipping low active products from the Southern USA or Europe does not make financial sense, particularly when there is a local, qualified toll manufacturer who can undertake their work.
Sialco is primarily a Custom or Toll Manufacturer of specialty chemicals. Our plant has been specifically engineered for multi-product, multi-reaction chemical processing. Occasionally, a toll blending project is entertained if it involves some sort of technical processing step or specialized equipment.